OUR MISSION
Student Economic Law Review is an online legal journal published twice a year and run by students of the University of Belgrade Faculty of Law. The Review was established in autumn 2010 by Associate Professor of Economic Law and Regulation Tatjana Jovanic and students who attended her workshop in the academic 2010/2011. In addition to papers written by students, the Review publishes also analyses and commentaries of adopted legislation and court decisions. The Editorial Board is composed of students of mainly undergraduate studies. They scrutinize the proposed papers as they are received, and after checking the quality of the work and the overall suitability of the topic, the paper is passed on to prominent member of the legal community for a second assessment. The Review accepts contributions from undergraduate, graduate and doctoral students, from Serbia and abroad.

It is the first student-edited law review in Serbia, and as such has influenced the emergence of similar reviews in the region. However, it has some added values, in addition to its main goal: promoting students' contributions to academic thought. The goal of the Review is to transform the gifted student from a mere receiver of legal education into an active creator of scholarly work and change agent in a society. Six years of experience has shown that publishing a paper is not only a validation of the quality of that particular piece of work, but also an opportunity to succeed in internship placements and job offers. Success stories of students as authors clearly certify that this Review is by itself an instrument fostering meritocracy in a transition society such as Serbian.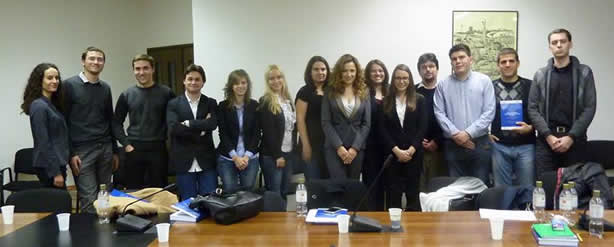 The Editorial Board (academic 2013/14)

The Editors strive to make the Review an useful publication not only to foster the development of learning and the possibility of young lawyers to publish their first papers, but has a broader mission and an acknowledged added value, engaging students as change agents in a society, wider than the university. Special or thematic issues of the Review are results of thematic collaborative writing groups, composed of students of undergraduate and postgraduate studies using metacognitive problem-oriented strategies and giving proposals in the policy making process in Serbia. Students act as experts and through collaborative working groups engage in a partnership with institutions of the Government/State, providing a thematic study as an input in the regulatory process – notably in the phase of public policy analysis (option analysis).

In addition to regular issues, three thematic issues have been published up-to-date. First was related to the institutional framework of consumer protection bodies in Europe, and was produced for the EU funded Project on Strengthening Consumer Protection in Serbia, which beneficiary was Ministry of Internal and External Trade. Through this study, students took a part in drafting the National Strategy of Consumer Protection 2013-2017. Second thematic issue was widely noticed and appraised. Students assisted the Government's Negotiation Team for EU accession, within Negotiation Chapter 4 – free movement of capital. The analysis which was produced for the Agricultural Land Administration on the regulatory regimes of land ownership by foreigners in many EU countries and several countries out of the EU was undertaken by a group of twenty five students. This special issue was followed by a documentary film produced by students on the same topic (published on YouTube and shared through social networks), where they explained, in more simple than legal language, what are policy options in liberalization of the land ownership regime. This study reached many associations of agricultural producers and even members of Serbian Parliament, and was used by some of them in the process of proposing amendments to the Draft Law amending Law on Agricultural Land. The third thematic issue was prepared for the Ministry of Internal and External Trade and Telecommunications, and represent a study on unfair business practices, aimed to assist traders in their attempt to comply with the Law on Consumer Protection, and also to inform consumers how to discern normal from unfair business practices. It is published at the official Government web page dedicated to consumer protection and acknowledged by consumer organizations. The fourth thematic issue would be devoted to emerging issues in district heating regulation and is under way.